It all began in 1978, in the village of Adami, Epidauros, located about 10 kilometers from the Ancient Theater of Epidauros. The tradition of the stone oven begun by Dimitris Kostopoulos over 40 years ago continues with a new generation, baking and selling traditional bread, rusks, pastries, and traditional sweets.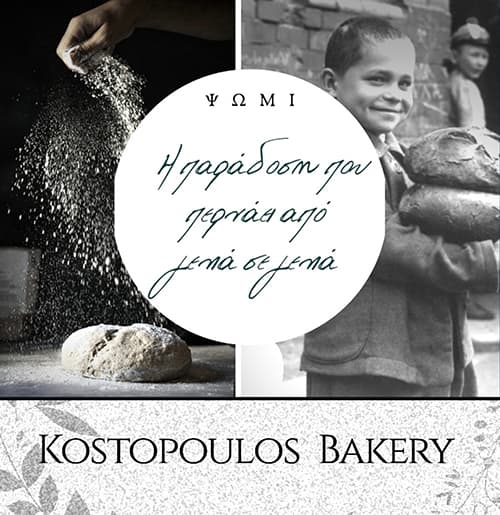 In tribute to his mother, Dimitris Kostopoulos decided to fulfill her dream that her son would bake bread himself. With diligence, effort, passion, and ultimately with vision, the bakery evolved into a family business, with his wife Sophia at Dimitri's side.
We bake bread every day with our own yeast, as well as cookies, pies, and more, all by hand using genuine natural ingredients and traditional recipes handed down over the years, as preferred by our customers.
After Dimitris Kostopoulos' sudden passing in 2015, we four children Alexandra, Konstantina, Irine, and Georgos, took up the bakery, adding our collective and individual touches and always respecting the traditions and foundation set by our father. With love and devotion to the history of flavors, to the standards set, to the recipes of our land, we pay homage to our heritage.
Our first step was a new bakery in Nafplio, established on 25th March Street, the road leading to the Byzantine fortress of Palamidi and the much frequented Karathona beach. Our modernized but still traditional bakery emphasizes the aesthetics of the space as well as its function, inside and out, creating a complete experience for our customers.
We offer a wide range of products, unmatched quality, and the undeniable taste of goods freshly mad every day. As is to be expected, traditional desserts are always present, as are a few more modern touches; a stop at the bakery is sure to be a sweetly sinful pleasure.
As for our bestsellers, we have "village" bread made with prozymi (our own held over yeast), galaktobouriko (a baked custard pie/pastry) made with fresh goat's milk, handmade rusks, tsoureki (sweet spiced bread) made with fresh eggs, kourabiedes (butter cookies with almonds in pwdered sugar) made with fresh butter, and many more......
KOSTOPOULOS I.K.E.
BAKED GOODS PRODUCTION
ADAMI EPIDAVROY
CO. NO.:146508513000
ΤEL: 27530-22670